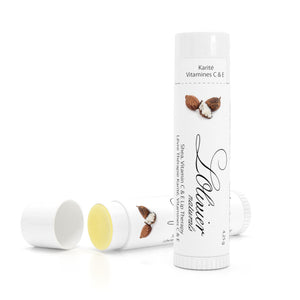 Specialized formula for cracked lip balm with Vitamins C and E. Only 100% natural ingredients go into our Lip Balms, made with vegetable oils, butter, and nourishing beeswax. No petroleum or artificial ingredients. Rich with vitamin E to heal and repair, our long-lasting lip balms leave a sweet infusion of natural flavor and an unbeatable smoothness that can only come naturally.
100% natural
Heals dry and cracked lips with long-lasting smoothness and comfort
No petroleum or artificial ingredients
4.25 grams
Ingredients: Extra virgin olive oil (Olea europaea), Beurre de karité (Butyrospermum parkii), Beeswax (Cera alba), Extra Virgin Coconut oil (Cocos nucifera) Cacao  butter (Theobroma cacao), Coffe Oil (Coffea arabic L.), Vitamin C (L-Ascorbic Acid), VitaminE (Tocopherol).